---
Villa Maderia
Madeira Beach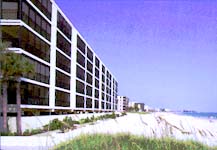 800-374-3273
Overlooking the beautiful Gulf of Mexico, Villa Maderia is a five story condominium complex. Our backyard consists of nothing but water and sandy white beach.
Each of Villa Maderia's units include a balcony, separate laundry, an a beautiful Roman bathtub. These units all have two bedrooms. There is also an additional small room usually equipped with a day-bed or trundle bed suitable for children.
Situated within easy walking distance of Maderia Beach's popular Johns Pass Fishing Village, guests can enjoy shopping, dining, or take a deep-sea fishing charter.
Villa Maderia's beautiful beachfrom pool is located at the south end of the building.
---
POOL - CABLE TV - TELEPHONES - KITCHENS - LAUNDRY - REFRIGERATORS - FAX - WASHER/DRYER
---
Go to Central West Florida Travel Directory

---
© Copyright 1997 by Destinations Florida Marketing, Inc., Naples Florida, USA