---
Melbourne Harbor Suites Hotel
Melbourne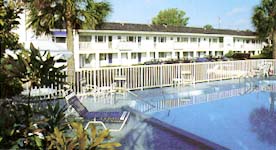 800-242-4251

Melbourne Harbor Suites Hotel is a family run hotel set in a lovely location overlooking Melbourne Harbor. The property is nestled in the heart of historic downtown shopping district. Dozens of restaurants are within a short walk.
Our one bedroom suites have a living room, full kitchen and terrace setting area.
Complimentary muffins and coffee provided daily.
Refurbished in 1993.
POOL - TELEPHONES - FAX - HANDICAPPED - ROOM SERVICE - LAUNDRY
---
Go to Central East Florida Travel Directory

---
© Copyright 1995 by Destinations Florida Marketing, Inc., Naples Florida, USA