---
Lands End Vacations
Excell Vacation Cruises
Madeira Beach, Florida
The World's Best Cruise Lines at Discount Prices
---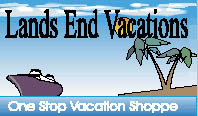 Lands End Vacations
14955 Gulf Boulevard
Madeira Beach, Florida 33708
800-373-3273 | 813-394-7900 | Fax 813-393-8885

Email: cruises@gte.net
Home Site: http://www.landsend.net/cruises
This Site: http://www.all-florida.com/travel/cwexcelc.htm



---
Vacation in Luxury
---
We have been in the cruise business since 1991 when we joined CLIA (Cruise Line International Association) and became licensed to sell cruise vacations as a Cruise Only travel agency. We have CLIA trained and certified Cruise Counselors on our staff.
We are also members of Cruise Shoppes America, a 350 member nation-wide organization dedicated to providing it's member companies with superior training and opportunities to inspect and learn about the various cruise lines and ships. They are also able to negoiate with the various cruise lines to provide good rates and special packages for great vacation values.
Cruise vacation opportunites are worldwide and can range from a quick two day trip to the Bahamas to seven days or longer Caribbean, Alaska cruise/tours, Europe, Baltic, Far East, and World Cruises. There are few vacation destinations that cannot be reached on a cruise ship. We can find the right one for you.
Note: We also offer Tour and Resort Vacations!
We sell value, not price . . . but not all cruises need to be expensive. We offer two very good programs that can help you get value and a low price.
Please take a look at out "HOT DEALS" page and our "Excess CABIN INVENTORY Page".
+ + + + +




Go to Lands End Vacations Hot Deals to learn more.
(Please use "BACK" to return to this page.)
+ + + + +

Go to Lands End Vacations Inventory Sale to learn more.
(Please use "BACK" to return to this page.)
+ + + + +
Go to Lands End Vacations Cruises Departing from Tampa Florida.
(Please use "BACK" to return to this page.)
+ + + + +
Go to the All Florida Cruise Directory
Go to the All Florida Travel Directory